The Homet Enigma - available now on Amazon!
This book, the newest historical fiction I've written, was begun in January, 2021. I wrote quite a bit, then stopped for a couple of months while other demands took my time and energy. But in June of 2021, I went back to this book.
I reviewed what I had written, made some tweaks, and began writing again. I had written about 40K words in the first go, but the final book clocks in at a whopping 97,000+ words!
The Homet Enigma is mostly the story of Marie Therese Schillinger, a real life person who was one of Marie Antoinette's Ladies in Waiting. To accurately describe, and immerse myself and therefore my characters, in old Versailles' milieu, I had to do--wait for it!--a lot of research! I read accounts of the daily schedule of Antoinette and the Versailles Court, long descriptions of her wedding procession from her home in Austria to Paris, diaries by her children's nanny about daily life at court (in French). I consulted maps, calculated travel time, confirmed this with contemporary records, etc etc etc. All to make The Homet Enigma, as always, as accurate factually and historically as I could.
But remember, this is fiction. I imagine what Marie Therese Schillinger's feelings and reactions to various situations might have been: we have not one scrap of diary, account, reflection, opinion of her or about her to substantiate any of this. Still, I feel that I have got to know her, and her husband Charles Homet, Sr., pretty well. I trust that my readers will, also.
A large portion of the book takes place at Versailles. Since 'life at the court of Versailles' has been done to death in books, tv, film, etc., I had no wish to recreate this in excruciatingly repetitive detail. Rather, I chose certain events and situations that are historically recounted and confirmed, and imagined my main character's reaction to and opinion of, as well as involvement with, those events and situations. Then I wrote about that. I hope this will bring a different and fresh perspective to what is often perceived as a stiff, unrealistic, costume drama period of time in French history.
Likewise, the story of the Revolution has been recounted, romanticized, filmed, written about, contradicted and debated in venues greater than my oeuvre. Again, I selected certain influences, circumstances, etc. which to me seemed to be of importance, and focused on those, again through the eyes of my main character. (Although I write in third person omniscient, much of this book, like my other work, is dialogue driven by characters.)
The idea for the core twist of the book, which doesn't take place until about 3/4 of the way through, came from dressing two mannequins last winter at the LaPorte House in French Azilum (in Pennsylvania, check the website, thefrenchazilum.com) to represent Antoinette and Mlle. Schillinger. After that, the rest just came.
I've dedicated this book to my former Intern at French Azilum, Savannah Milne. I venture to say that after two seasons and a winter break of working closely together we have also become friends. She is a direct descendant of Charles Homet and Marie Therese Schillinger, and sparked my greater interest in the Homet family in general; the Homets, along with the LaPortes, about whom I wrote in The LaPorte Inheritance and in Reflections in Time, were the other premiere family in the region, and in Azilum village. As such, they deserve their own novel in my French Azilum oeuvre.
I hope my readers enjoy The Homet Enigma, find Mlle. Schillinger as interesting as I did/do, and use the book as an enjoyable way to learn about some remarkable, but largely unremarked, people in our past, people whose influences are still felt today.
The Homet Enigma is available from Samothrace Press on Amazon, in paperback and e book formats. Follow Deborah deBilly dit Courville on Facebook, Twitter, and Instagram to get updates!
Ideas for a NEW book!
In true Deborah fashion, less than a month after my most recent book, REFLECTIONS IN TIME, is published, I am starting to think about the next book.
REFLECTIONS was a blend of historical 'fact-ion' and a mystery that needed to be solved. I enjoyed blending the two genres, since now Gracie and Jack, the main protagonists of my murder mystery series, 'Reporting is Murder!' have retired, as it were.
A few people have suggested to me (people always give me suggestions!) that I do a story about a person from the past coming into the present. So I have been thinking about that. I will admit that writing and researching a past era holds real appeal for me, which is why my characters generally go back in time. However, almost as much research would be needed in a way to create a convincing character from the past.
So i began today, completely without having planned on doing it, jotting down notes for the new book. I am not sure yet what it will be called, nor what, exactly, the plot is. I do know that the modern day woman protagonist will have the surname Ballanger. I have not yet decided on a given name.
My male protagonist, who was called 'pastdayman' in early notes, will be called Geoffrey Dyer. The surname is an hommage to my friend Jean Dyer Wood.
And here is where it gets a bit different. I had long ago decided to set the new book at a Rendezvous— one of the reenactment camp events which is held by the group i belong to here, Endless Mountains Primitive Outdoorsmen (see EMPO.us for info on the organization). But this morning I wondered, 'are there similar groups abroad? Say, in England or France or Italy,' all of which I know rather well?
The language issue, though I could translate, led me to eliminate France and Italy. I discovered that there are a number of English-speaking historical reenactors of the type I was looking for, but in Australia, where they call it 'bushlife' if I remember correctly.
I had to tweak the search terms a little, but I did finally find UK historical reenactment groups.
Because EMPO's eras span 1740-1830 ish, Iwanted to stick with that, since it is a time period I am getting to know somewhat, and in which my next to last book, IN THE TIME BEFORE, is set. So i am fairly conversant in it. And you know, they say, 'write what you know, ' or at least are prepared to learn about!
I found a couple groups, and then decided to set the book in and around the Thames estuary islands, in particular Foulness Island, where my friend Jean is from.
This opened up another whole avenue of research which i think i have only begun to plumb: if my male time traveller is from mid 18th century Foulness, what was it like then? What would Geoffrey Dyer have done for a living? What were the estuary islands known for? (I will tell you that last one—smuggling!) Even though I plan to have him tumble through a time portal to present day Essex, England, where there is a reenactment event taking place, I have to know something about the time he is supposed to be from!
So, that is as far as I have got so far. Setting the book on Foulness itself may be an issue since in the present day it is owned by the MOD which has all sorts of military facilities and testing sites on it. So, not conducive to a reenactment event. And according to the way I perceive time travel, the place must be the same, though the times shift.
I might resurrect a purely fictional creation from one of my mysteries, TIDE'S REACH, which I named Sanderling Island. It was basically Foulness before the MOD took it over (which happened in 1917 I think) and with many imaginative touches. But, it is a place I know well, which still conveys the spirit of the estuary islands.
Stay tuned for updates!
REFLECTIONS IN TIME Coming Soon! UPDATE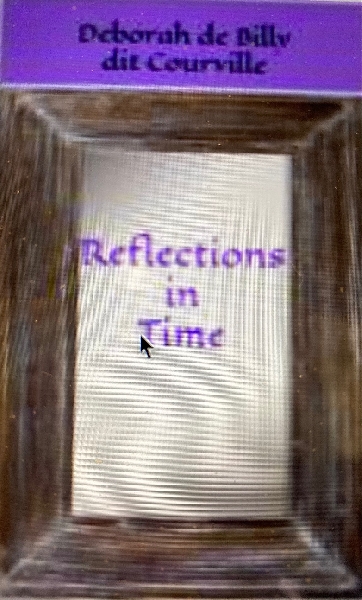 The newest historical fiction book, REFLECTIONS IN TIME, will be AVAILABLE THIS WEEK in both e-reader (Kindle) format, and paperback! Woo-hoo!
A blend of historical 'fact'ion, time travel fantasy and murder mystery, REFLECTIONS IN TIME is set in 1837 at French Azilum's LaPorte House. It is not a continuation of the LaPorte Inheritance, which explores the wider story of the founding of Azilum. This book focuses in on the LaPorte family a year after John LaPorte built his magnificent summer home: the family, the servants, the clothing, the food, the pastimes, the morals, and more.
OUT THIS WEEK, it's a perfect gift for anyone on your holiday gift list who likes to read, likes history, likes mysteries, or is intrigued by the amazing story of French Azilum.
From Samothrace Press; on Amazon in e-book format and paperback.
The LaPorte Inheritance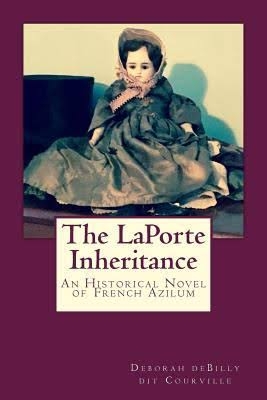 The LaPorte Inheritance is one of my favorites that I've written, because, although it's classed as historical fiction, it's a lot more historical FACT-ion. I'm lucky enough to be on the Board for The French Azilum Historic Site, Inc., located in Bradford County, PA, near Towanda. If you've never heard of French Azilum, you're not alone: it's one of the best-kept secrets ever!
Azilum was founded in 1793 by a group of investors who wanted to establish a trading colony in that location along the Susquehanna River. The timing coincided with those fleeing the French Revolution, so the investors hired a couple of French men to oversee the colony, and began to invite refugees from 'Madame La Guillotine' to settle in the new village.
The LaPorte Inheritance is the story of one of the men who ran the colony, Bartholomew LaPorte, and his family. As a Board member, I had access to our archives and was able to read a number of primary source materials such as letters and family Bibles to get the facts for the book. Whenever I could not find something factually, I did make it up, using everything I'd gleaned and learned about the time to inform my fiction.
Readers of The LaPorte Inheritance will learn a great deal about the founding and existence of Azilum, about its people and its politics and about its eventual demise, all while being swept along in the tale of the LaPorte family's day to day lives during this extraordinary period.
On Amazon in paperback and Kindle, the book has prompted many readers to plan a visit to the site itself, to see the LaPorte House and perhaps imagine themselves one of the noble French refugees who, for about a decade, created a 'Versailles along the Susquehanna.'
In the Time Before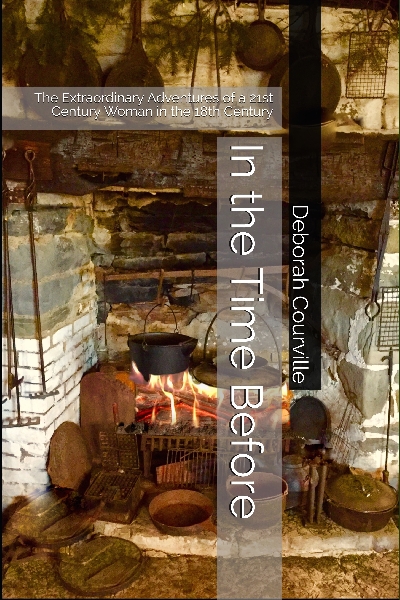 In the Time Before is a novel about northeastern Pennsylvania in a time before The Oldest House was built. It takes place in and around the plot where the House will be built, and theorizes that the House was, in fact, built on an original one room cabin that stood there in the late 1750s.
The idea from the book came when we (i.e., the Board of The Oldest House) had some beams from the basement chronologically tested up at Cornell University. The beams had been removed as a part of the re-building of the foundation. Results were not as definite as we had hoped, but one beam in particular was said to have possibly been from a tree felled prior to the time we believe The Oldest House had been built.
That, of course, got me thinking: so...what was here before the House? Another house? A shack? No...a cabin...
And from there, In the Time Before grew. (And grew a lot, it's over 750 pages. But don't let that deter you: it's not small print!)
This book begins in 1759 in the middle of the French & Indian War, part of the Seven Years' War. I knew very little about this conflict before writing the book. I know a lot more now, LOL!
The main protagonist is Abby, a widow of thirty-something who travels back from the current time to 1759. I'll leave the details for you to discover, but I will admit, I enjoy using time travel as a plot device!
In 1759 she finds her way to what she thinks must be The Oldest House, because she knows the House in her own life. Of course, it's just a cabin, but she can see, once she's there (and has calmed down), how this small cabin became the Keeping Room of the House, when the cabin was expanded by later owners.
Abby meets the other protagonist, Nicholas DePuye, at the cabin. He is about her age or a bit younger, and unbeknownst to Abby, a spy for the British in the War. Of course, Nicholas does not know that Abby is a time traveler, so the playing field is quite even.
A friend of Nicholas', a Native American, thinks that Abby is a Shaman--when you read the book you'll understand why--so she and Nicholas stumble along, each misapprehending the other for a while, until Abby finds some conclusive evidence and figures it all out. Then, of course, she is compelled to tell Nicholas.
Throughout the book, which a couple of readers have said reminds them of War and Peace in its structure--apologies to Tolstoy--Nicholas goes on various missions which result in battle outcomes consistent with our telling of history. However, the reader can see how in each case, things could have gone wrong, were it not for Nicholas' intervention. Woven alongside the warp of the war plot line, is the weft of the developing relationship between Nicholas and Abby, or Abigail. And over it all is the tale of Abby's discovery of the way people really lived 300 plus years ago, the power and community of women, and the friendship, on an individual level at least, between the Native Americans and the settlers.
Do Nicholas and Abby get together? Does Abby stay in the past or find a way home to the future? Does the War end the way history has taught us, or has something changed?
Well, you'll just have to read this to find out!
On Amazon, as always, in kindle e book and in paperback. (The paperback may be used as a doorstop when you're finished, as it's heavy enough!)
Please let me know what you think when you've read the book! You can email me at dlc18thcentury@gmail.com. Thank you.
The Oldest House Series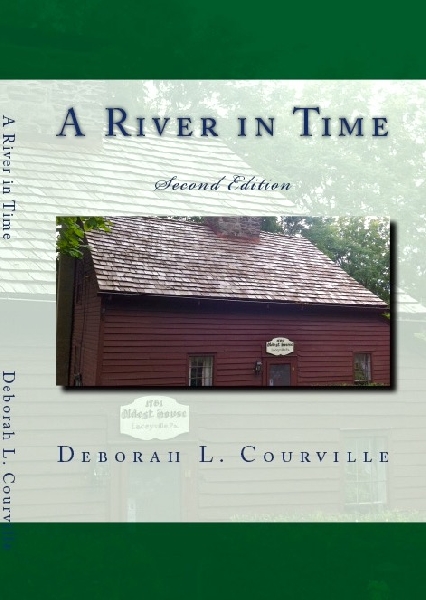 The series of four books about The Oldest House were the first historical fiction books I ever wrote. But the House, built circa 1780s, inspired me so much that I felt the need to write as a physical urge.
Many times when the other docents and I are dressed in period clothing and waiting to give a tour, when we look out of the wavy-glass paned windows of the House towards the river, and it is quiet with no traffic outside, we like to think that we could be back in the 18th century. That was the spark that set me off writing the first book, A River in Time.
It proved popular enough that of course I had to write a second book...and then a third...and finally a fourth. The second book Treachery in Time, explores the challenges faced by Izzy, the heroine, when she attempts to spe,ak her mind about a matter that is considered not to be appropriate for a woman. Of course, it also furthers the story and by the third book, Izzy returns to celebrate Christmas at the Oldest House in A Christmas in Time, with the family that still lives there, the Sturdevants. This book contains a lot of surprising information about the way the holiday was kept back then, as well as more information on the burgeoning town that would become Laceyville.
By the fourth and final book in this series, Izzy travels in time again, to the era of the Civil War. The book, A Rescue in Time, presents the difficulties encountered even in northern rural Pennsylvania with regard to slavery and the Underground Railroad, and also hints at a very important 'rescue' that Izzy helps to accomplish.
It will not surprise readers that Izzy and her love interest Josh do finally end up together. I won't say any more, as I don't like spoilers--and that is why I only mentioned Izzy's involvement in the plot summaries of the books in the previous paragraph. You'll have to read the books for yourself to discover when and how Izzy and Josh court and come together.
Please let me know what you think about the Oldest House series! Email me at dlc18thcentury@gmail.com. Thanks!