BRIDGERTON TEA AT AZILUM!
Do you love Bridgerton
and the Regency Period???
Come join us at French Azilum's first ever 'Bridgerton' Tea! Whether you dress as yourself or in your finest Featherington frock, you'll have a great time, with activities based on the bestselling book and hit series, a tour of the House, followed by a beautiful Afternoon Tea* worthy of the Duke of Hastings himself!
Sunday, May 29, 1-4 pm at French Azilum's LaPorte House.
MUST BE PRE-BOOKED! Call 570-996-7534 to book. $30 pp
(All monies go directly to support French Azilum)
*gluten free, caffeine free, and vegan choices offered
The French Azilum is a 501 (c) 3 registered non profit historic site, open
Friday, Saturday & Sunday 11-4; tours at 12, 1,2 and 3 sharp!
For more information see our website: thefrenchazilum.com or call 570-265-3376.
Titanic Encounter Tea April 9!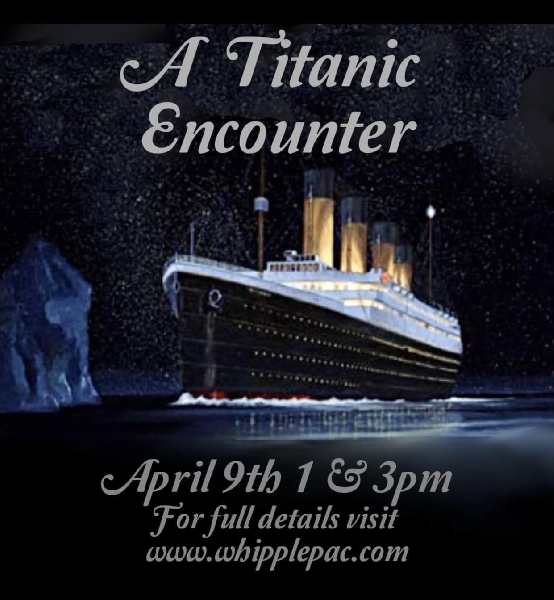 It's been a tough time for those of us who enjoy going out to themed group events, and now the winter weather makes it even more of a challenge. However, something to look forward to: A Titanic Encounter Tea!
To commemorate the 110th anniversary of the sailing, and sinking, of the RMS Titanic, there will be a 'Titanic Encounter' a short, immersive program, followed by a three course, home made Afternoon Tea. The Whipple Performing Arts Center in Tunkhannock is the location, and I, along with the Whipple staff, am hosting the event.
Join us to experience a bit of what it must have been like on the fateful night when the great ship struck the iceberg, Learn about a few of the passengers and the 'perfect storm' of conditions which led to the disaster. A gracious Afternoon Tea in the best tradition will follow.
SPOTS ARE LIMITED TO 24 PER SEATING, so book now by emailing me at debcourville@gmail.com, or calling me on 570-996-7534, or calling Whipple PAC on 570-836-6990.
*Most suited for adults, teens, and tweens.
Regency Dance Classes in Tunkhannock!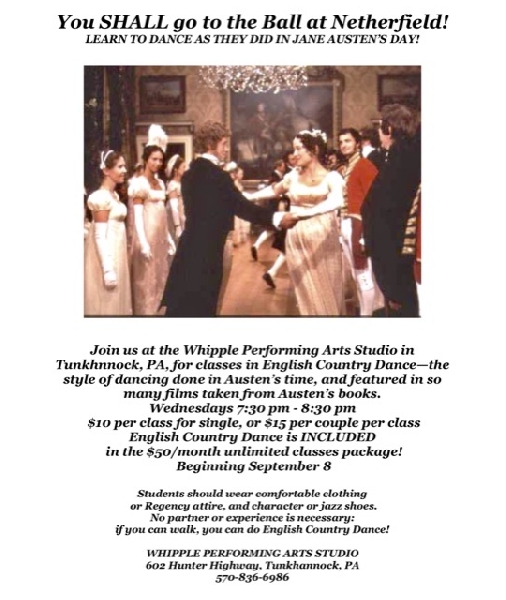 Regency (and some Georgian) Dance classes will be offered at the Whipple Performing Arts Center in Tunkhannock, PA through mid July, 2022. They will begin again right after Labor Day..
Classes are Wednesdays from 7:30-8:30 pm. $10/ class for single, $15/ class per couple. Regency Dance is included in the $50/ month unlimited classes package, so come join us, and learn to dance as they did in Jane Austen's time, in her novels, and in Bridgerton! Learn about Regency and Georgian clothing and customs as they related to dancing at Assemblies and Balls, and experience a wide variety of dance patterns and steps, some dating from as far back as the 17th century!
Most of all come join us and have a lot of fun!
You SHALL go to the ball—
ADVANCE NOTICE EMAIL LIST!
WE ARE STARTING AN EMAIL LIST FOR THOSE WHO WANT TO BE THE FIRST TO HEAR ABOUT THE THEMED TEAS AND OTHER EVENTS.
Here's how it will work. Please email me at debcourville@gmail.com, expressing your interest. I will add your email to the list.
The moment a Themed Tea (usually at French Azilum, but there may also be one occasionally at the Oldest House) or other event is confirmed and scheduled, I will send out an email with deets about when, where, cost, how to book, etc. Then you can email me back if you are interested.
I guarantee this email will go out at least one week and possibly much much more before the facebook and website notices go up, or any ads go in the papers.
This way, people who really want to book in for one of these limited seating events will be able to do so. (Most teas are limited to 25 people, and other events like the Christmas with Mary Dickens, or an Afternoon with Jane Austen (both in Scranton to benefit Abington Library), are also limited and sell out quickly.)
This notice about the email list will go up on facebook today, so be sure and email me asap to be put on the new Email Notice List!
Thanks!—Deborah
Teas & Talks, 2022
Check back often, as this list will be updated as new events are added (or altered). Thanks!
The BRIDGERTON Afternoon & Tea
at French Azilum!
On Sunday, 29. May, 2022 from 1-4 pm at the LaPorte House at French Azilum, enter the fascinating and fun fictional world of the runaway hit, 'Bridgerton.' Come dressed in your finest Featheringtonesque finery, or come as you are--all styles welcome.
Join Lady Bytheway as she escorts you on a tour of the late Regency period LaPorte House (1836) discussing manners and customs of the time. Take part in crafting an innuendo-filled story to commemorate the day, and if the weather is fine, join in a game of croquet.
Then relax and revel in a scrumptious, three course Afternoon Tea, worthy of any top shelf Bridgerton hostess!
$30 per person, must be pre-booked as spaces are limited and these events sell out fast! To book call 570-996-7534 and leave a message. We'll get back to you with details on how to reserve and hold your seats!
Next Appearance!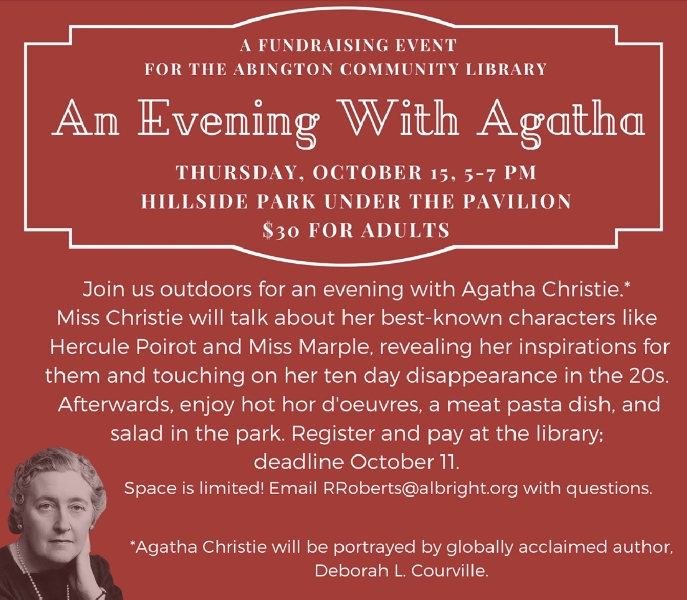 I'll Be Portraying the Queen of Mystery...
AGATHA CHRISTIE!
The next presentation in my ongoing series of portrayals of famous historic literary woemn will be October 15 from 5-7at the Pavilion at Hillside Park near Clarks Summit.
The series benefits the Abington Community Library, and I am homored to have been asked to bring these amazing ladies to life.
Two years ago I portrayed Jane Austen, and last Holiday season I was Mary Dickens. This summer, I channeled Abigail Adams. Now, just in time for Hallowe'en I will present Agatha Christie, one of the most prolific and best loved mystery writers, ever.
Tickets are limited, and they are $30, which includes a light dinner!
So come cheer me on and help out the Library at the same time!
The Historical Costume and Fashion Society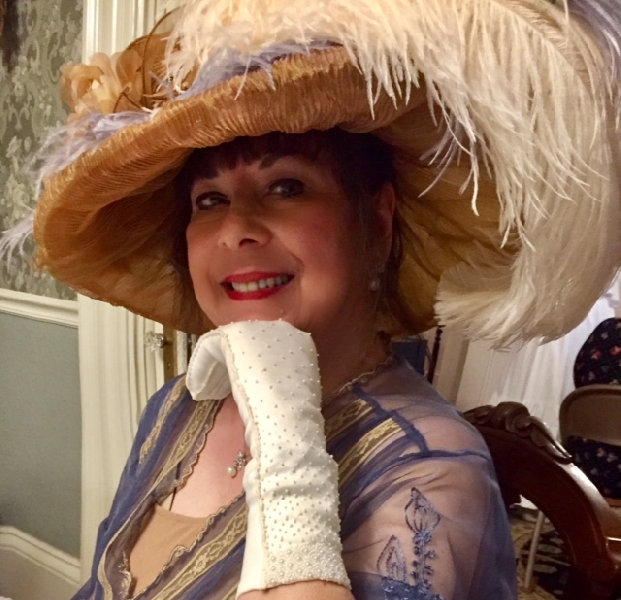 The Historical Costume and Fashion Society was the brainchild of my friend Lisa Terninko, and me one day when we were having lunch together. We decided to start this page on Facebook, and invite 'like minded friends' to join.
On the page, we post notifications of events coming up, which we intend to go to, and invite others to join us. We dress in period clothing (usually historically accurate, or HA, reproductions but sometimes authentic if it's not too fragile) and generally have a fine time!
Some of the events are the ones I do personally, that you'll find here under 'Events.' Others are teas, dinners and tours held at other (mostly) historic homes, or to benefit historic homes. For example, we have gone up to the Phelps Mansion in Binghamton for a tour. We have gone to a tea room near Scranton for a special Spring Tea. We have gone to the Stegmaier Mansions in Wilkes Barre for dinners and teas. So you see there is an element of historic preservation, an element of charitable giving, an element of historic costuming, and an element of FOOD!
We always have fun, and we know we are helping not only the historic homes and efforts that benefit from the events, but we are helping to raise awareness of the role played in history by various styles of dress.
The HCFS welcomes anyone with an interest in those four elements to join in--you need not actually dress in period clothing, but we do encourage it.
On Facebook, search for 'Historical Costume and Fashion Society' to find the page. We look forward to seeing you there!